Perhaps nothing is more gratifying for a more youthful beautifying look, than having an immediate correction of rhytides or scars as a result of the injection of dermal filler. Since 1981, many products for that purpose were FDA approved. Some last 3 months and some 4-6 months, plus needs testing for allergy before treating. dermas choices are the newer generation of FDA cleared dermal fillers, long lasting 9-12 months and do not require allergy testing.
By definition, dermal filler is a product that is injected or placed into the dermis. The procedure takes 20 minutes or more depending on the area treated. A post procedure instruction sheet is usually given to patients, emphasizing the important points.

Micro Cannula Blunt Tip
Derma uses the Micro Cannula Blunt Tip Technique which provides a 90% reduction in bruising, a more comfortable treatment, and faster recovery; you may see true results in just 3 days. Micro Cannula is rarely used in the U.S. due to the special training and technique it requires. It is a safer method by avoiding the intravascular injection of fillers which can impact skin negatively and cause unfavorable side effects. Derma's experience has been using the Micro Cannula Blunt Tip is that it gives you a more naturally distributed, smoother skin surface.
Restylane

®
Lyft, Refyne, Defyne, and Silk
The Restylane® line smooths away facial wrinkles and folds, provides subtle lip enhancement, smooths the lines around the mouth, adds lift and volume to the cheeks and helps reverse the signs of volume loss in the back of the hands.
Restylane® Lyft
Over time, natural fat begins to deteriorate, resulting in sagging skin, more prominent wrinkles and a reduction of volume. Restylane Lyft, is an injectable hyaluronic acid gel used to correct volume loss and treat wrinkles in the face and hands. Through nonsurgical injections, Restylane Lyft is specifically designed to add fullness to the cheeks, midface area, and the back of the hands to help complete your aesthetic look — for face and hands.
Restylane® Refyne, Restylane® Defyne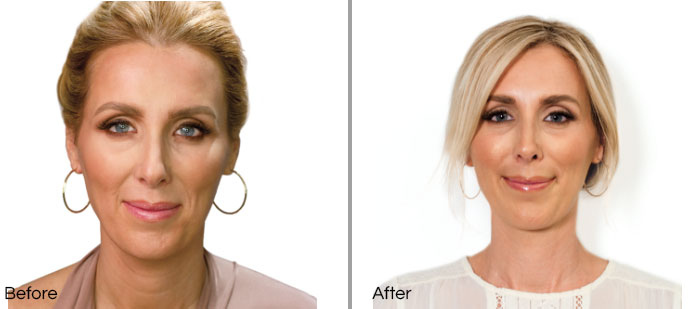 As skin loses elasticity with age, the lines that run from the sides of your nose toward the corners of your mouth (nasolabial folds) and the lines that run from the corners of your mouth toward the chin (marionette lines) appear more noticeable. Restylane Refyne and Defyne are specifically formulated hyaluronic acid dermal fillers that helps correct these lines for a more natural look to your face. The unique cross-linking of the gel in these products is also designed to help support your natural expression—for real-life results that help maintain natural movement when you're smiling, frowning and even puckering up.
Restylane® Silk

The lips and the lines around the mouth, like other areas of the face, show signs of aging as you get older. This often results in lip thinning, lost shape and an increase in vertical lines above the lip. Restylane Silk is designed specifically to provide natural-looking results in these particular areas by using smaller, smoother hyaluronic acid particles than those used in other Restylane® products.
Get Rewarded for Looking Great!
Make your Restylane treatments even more rewarding experiences by joining ASPIRE Galderma Rewards. It's simple to earn exclusive rewards, bonuses and discounts throughout your facial aesthetic journey. Earn points toward treatment certificates by taking bonus quizzes, participating in surveys or referring friends.
It's easy to join and easy to enjoy — sign up today, and you'll receive a $20 treatment certificate.
Join the ASPIRE Galderma Rewards Program!
Revanesse® VersaTM
Revanesse® VersaTM is a multi-purpose dermal filler that leverages state of the art production methods, optimal ingredients and rigorous quality testing to provide remarkable results. Revanesse® is tried and tested, with over 1 million syringes used worldwide since 2002.
Hyaluronic Acid (HA), the primary active ingredient in most dermal fillers, is a naturally occurring substance that can be used cosmetically to correct moderate-to-severe wrinkles and folds in the skin. However, all dermal fillers are not created equal. Versa provides natural, long lasting results with less swelling than other popular (HA) dermal fillers which allows you to get back to your life almost immediately after treatment.
Revanesse® VersaTM
Safe – Completely free of all animal products. Biocompatible and biodegradable formula breaks down naturally in the body over time.
Produced in Small Batches – Small batches ensure that VersaTM adheres to the highest quality standards and is always delivered fresh.
Natural Results – VersaTM is a remarkably homogenous filler due to advanced wet milling technology and proprietary formula. This means that the particles are uniquely spherical and uniform, providing the perfect balance between smoothness and volume.
Long Lasting – The spherical particle shape is developed to be accepted by the body and breakdown slowly over time. For added longevity, VersaTM exclusively uses premium quality HA with a notably high molecular weight.
Less Swelling, Less Downtime – In a recent study another popular (HA) dermal filler was shown to produce swelling 24% more often than VersaTM. The lower rate of swelling means many patients are able to get back to their lives almost immediately after the treatment.
Precise Application – The VersaTM formula is designed to be balanced with the skin's natural water content. This means the treatment is optimized to stay true to your desired volume and placement. The high viscosity of VersaTM allows it to be easily injected with a super-fine needle.
Download the Prollenium® Elite App for Revanesse® customer rewards!
Juvéderm®
Juvederm® injectable gel is a hyaluronic acid proven as a safe and effective augmentation for all skin types and color lasting up to a year. Results are immediate with minimal recovery / downtime towards a more youthful look enhancing your features.
Juvéderm® Voluma XC
Juvederm® Voluma XC is the first and only FDA approved filler to instantly add volume to the cheek area in people over the age of 21. Wrinkles are only part of the aging equation Volume loss in the cheeks is a major reason we lose the youthful profile over the years.
Juvedérm® Voluma XC:
Gives a subtle Lift
Helps restore contour for up to 2 years
Can make you look up to 5 years younger
Is nonsurgical
Belotero®
One of the most important factors in choosing a filler treatment is understanding how it works. Over time, our skin begins to lose naturally occurring components such as collagen, elastin, and hyaluronic acid (HA), leaving skin more prone to develop etched-in lines and wrinkles.
Belotero® is a hyaluronic acid (HA) injectable filler that completely integrates into the skin tissue. While some fillers are designed to rebuild facial volume and structure, Belotero® specifically treats moderate-to-severe etched-in lines and wrinkles such as vertical lip lines above and around the lips.
Integrates with your skin's tissue
Helps smooth your moderate-to-severe etched-in facial lines and wrinkles
Maintains normal movement and facial expressions
Feels natural to the touch
Radiesse®
Radiesse® filler is calcium-based microspheres suspended in a water-based gel. It is ideal for facial augmentation, contouring, restoration and correction resulting in a more attractive youthful look. It lasts 12 months starting a process of collagenes (stimulating your body to produce more collagen, and encouraging collagen to grow around the injection area).