What Is Sculptra® Aesthetic?
Sculptra addresses the underlying cause of aging, not just the symptoms. Sculptra Aesthetic is an FDA-approved injectable that helps gradually replace lost collagen — an underlying cause of facial aging — for results that can last more than two years.*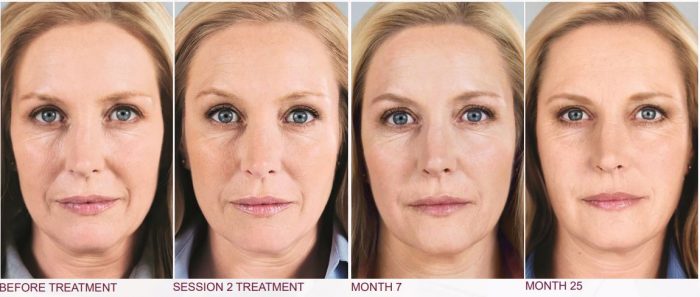 25-Month Results: Elissa
If you want to appear more youthful-looking — without appearing like you've had work done — then chances are Sculptra Aesthetic may be a good choice for you.
Sculptra® Aesthetic works subtly and gradually over time for a more youthful-looking appearance. Unlike hyaluronic acid (HA) fillers, Sculptra Aesthetic helps stimulate your skin's own natural collagen production to help restore its inner structure and increase facial volume that has been lost to aging. Sculptra Aesthetic is intended for use in people with healthy immune systems as a one-time treatment regimen of up to four injection sessions that are scheduled about three weeks apart.
The Underlying Structure of the Face Gives the Appearance of Youthful Volume

Bone, fat, and collagen are 3 important materials that give the face volume and firmness
What Makes Sculptra® Aesthetic a Unique Injectable Treatment?
Sculptra Aesthetic is an injectable that helps restore collagen for a natural, more youthful-looking appearance that lasts over 2 years.
Sculptra® Aesthetic Helps Rebuild Facial Structure by Reproducing the Body's Own Collagen

How Does Sculptra® Aesthetic Work?
SCULPTRA AESTHETIC HELPS STIMULATE NATURAL COLLAGEN PRODUCTION
Contains microparticles of poly-L-lactic acid (PLLA), which is created from sugarcane
Once absorbed by the skin, PLLA attracts and stimulates new collagen growth
Results typically last 2-4X longer than hyaluronic acid (HA) fillers
Sculptra® Aesthetic Is Different From HA Fillers
THERE ARE 2 "STYLES" TO CHOOSE FROM WHEN REPLACING VOLUME:
Classical structure that lasts (like a sculpture), or flexible expression that makes a statement (like a painting)
Gradually improves skin's structure by helping to stimulate collagen growth
Provides subtle improvement over time
Results can last for 2 years or more

Replaces lost volume with a lifting gel
Provides immediate improvement to lines and wrinkles
Results can last around 6–12 months

Treatment With Sculptra® Aesthetic Was Safe and Well Tolerated in Studies
THE MAJORITY OF SIDE EFFECTS WERE LOCALIZED TO THE INJECTION SITE
Common injection-site–related side effects included:
— Localized swelling, tenderness, redness, and pain
— Localized bruising
— Bleeding
What Kind of Results Can I Expect?
See the subtle, more youthful-looking appearance of actual Sculptra® Aesthetic patients
Sculptra® Aesthetic Is Designed for Subtle, Gradual Improvements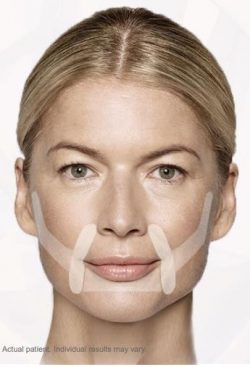 SCULPTRA AESTHETIC GRADUALLY HELPS STIMULATE YOUR BODY'S NATURAL COLLAGEN FOR SUBTLE RESULTS
When injected into the lower face, Sculptra Aesthetic can help improve youthful volume over time
Over the course of several treatment sessions (an average of 3 sessions over the course of several months), Sculptra Aesthetic produces subtle results that emerge gradually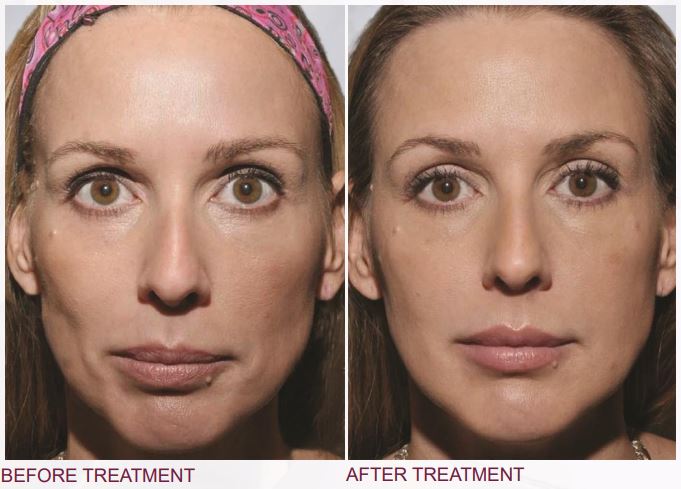 5-Month Results: Julie
Photos courtesy of Burk Robinson, MD.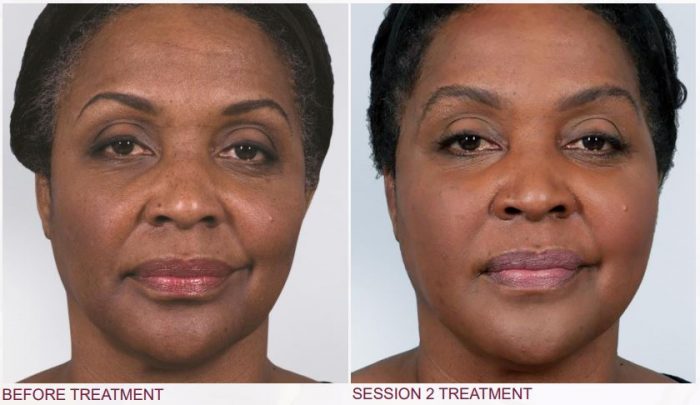 5-Month Results: Vivienne
Photos courtesy of Rebecca Fitzgerald, MD.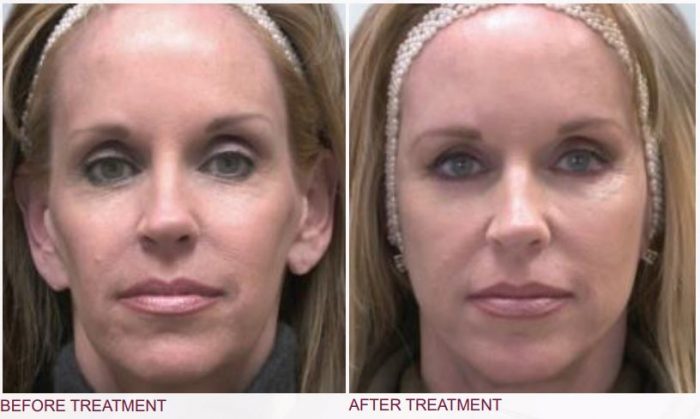 9-Month Results: Pam
Photos courtesy of J. Todd Andrews, MD.
What Are the Most Important Things to Know About Treatment?
YOUR RESULTS WILL BE SUBTLE AND NATURAL-LOOKING
Works gradually over time
Requires a series of visits (3 on average) over the course of a few months
GOOD RESULTS TAKE TIME
Results are gradual, so taking photos at each treatment visit can help you observe the changes over time
Visible results will appear within the first few treatment sessions
I THINK OF SCULPTRA®
LIKE THE FOUNDATION TO
YOUR HOUSE…THIS IS MY
GO-TO PRODUCT
— RealSelf® Sculptra Aesthetic patient, 45 years old
Tips to Follow After Your Injection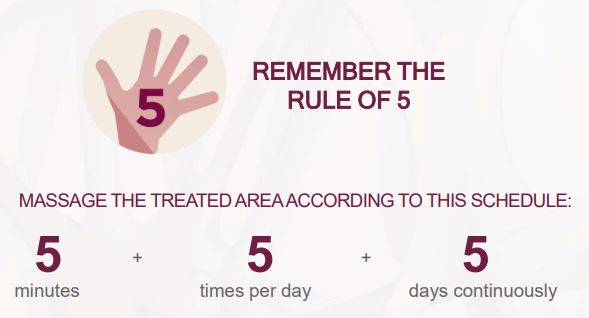 Have an ice pack ready
Within the first 24 hours after treatment, apply a cold compress to reduce swelling
Use an ice pack or ice wrapped in a towel
Do not apply ice directly on your skin
Avoid excessive sunlight and UV exposure
Avoid sun and UV sunlamp exposure until swelling and redness have disappeared
Use cosmetics when comfortable
Makeup can be applied a few hours after treatment if no complications are present (for example, open wounds or bleeding)
Ask Your Specialist if Sculptra® Aesthetic May Be Right for You