(view more videos at the bottom of this page)
Venus Freeze™ and Venus Legacy™ Treatments
Thermal Magnetic Rejuvenation
Thermal Magnetic Rejuvenation is a quick, non-invasive treatment that is highly effective in reducing circumference, improving cellulite, tightening skin, and reducing the appearance of wrinkles. These treatments use Pulsed Electro Magnetic Fields, which provide you with the added benefits of increased oxygen, nutrients, and blood to the skin, giving it an immediate, long-lasting glow. Thermal Magnetic Rejuvenation is a safe and pain-free experience in treatments for contouring the face, neck and body. Treatments are safe, quick and effective for all skin types!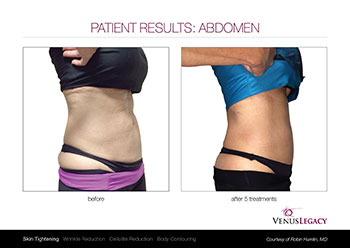 Benefits:
Soften laugh lines and wrinkles
Tighten the abdomen for a flatter, more defined waistline
Reduce the appearance of stretch marks and cellulite
Enhance your shape by contouring the buttocks and thighs
Tighten lax skin around the neck, jowls, and décolleté
Skin looks instantly healthier and more radiant
Short treatment sessions with long-lasting results
Pain-free with no downtime
What to Expect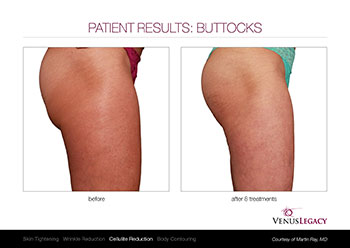 Venus Freeze™ and Venus Legacy™ Thermal Magnetic Rejuvenation treatments are non-invasive and virtually painless, with many patients comparing the experience to a relaxing hot stone massage! As you lay comfortably on a treatment bed, the technician will apply a gel to the skin that helps the applicator glide more easily and protects your skin from the heat. The treatment provider will then begin using the applicator to apply smooth, consistent movements on the skin's surface. You'll feel the pulsating suction right away along with gradually increasing heat, but only until you reach a comfortable temperature. In fact, the procedure is so pleasant that patients are encouraged to close their eyes and just relax, and some even fall asleep!
Each treatment can take anywhere from 15 to 40 minutes, depending on the area. Your skin may appear a little red and warm to the touch afterward, but there's still no pain at all and the redness usually disappears within a couple hours.
The number of treatment sessions needed to see optimal results usually depends on the area being treated—a minimum of six treatments is usually recommended for the face, with eight for the neck and other parts of the body. That being said, it is not uncommon for patients to see continuing improvement in their skin up to three months after the series of treatments is complete.
Venus Legacy™ Before & After Images
(click on images below to view larger)