Regenique is a unique and comfortable treatment with no downtime! The Regenique system is safe for all skin colors, conditions, and types. You will see immediate results after your very first treatment! Regenique increases collagen production and will help you recapture your youthful glow in only a few weeks. Our experience is that generally everyone has visible positive effects or receives some compliments on their skin, after just one treatment.
Reginique is a medical grade treatment that combines microdermabrasion, oxygen infusion, ultrasound, electrical stimulation, and a silicone mask. The stages of the Regenique process takes approximately 90 minutes on the treatment table.
The Regenique system includes the very best ways to smooth and polish your complexion and neck (chest is additional). The medical microdermabrasion system treats the skin by removing the resistive stratum corneum layer (top most layers) skin with no-pain and a lot to gain. In addition, ultrasound and electrical stimulation device increases circulation and promotes improved elasticity in your skin. The medical ultrasound treatment deep heats the layers of the skin, while the electrical stimulation creates a deep therapeutic massage to the tissue. This step is essential to the maximum absorption of the skin specific topical products for the next step.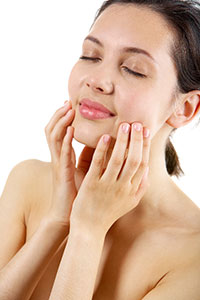 You relax to a treatment of skin care products and a mask that produces deep results. This process forces toxins in the dermis to rise to the epidermis in the form of perspiration. The toxins burn off, the remaining water grabs the skin care nutrients and drives them into the dermal layer, creating super hydration to the layers of the skin and treating the skin condition where damage begins and where the effects of new collagen production begin.
In a few short weeks with no down time you will experience:
Easing of fine lines & wrinkles
Lightened pigmentation & dark spots
Diminished acne & corrects problem skin
Reduced scarring
Smoothed & redefined skin texture
Increase hydration for overall skin health
Tightened & toned skin
Improved sun damaged skin