The Dermapen fractional micro delivery provides unparalleled collagen induction via fragmented delivery of needles into the epidermis and dermis. These micro injuries to the skin encourage and harness the power of the body's innate ability to re-grow and repair the skin through the physiology of collagen induction. The before and afters are typical of a series of treatments where patients experienced six treatments over the space of six months. Each treatment is done four weeks apart.
The Dermapen Treatment is successful at treating a variety of skin conditions:
Tightens, lifts, and rejuvenates the skin
Reduces acne scars, surgical scarring, and other scars
Improves wrinkles and fine lines
Minimizes pore size
Improves stretch marks
Treats alopecia

Less injury and trauma to the skin means less pain and little to no down time for you.
Dermapen offers a solution for all skin conditions that clients might seek treatment for: wrinkles and fine lines, acne scarring, stretch marks, wound healing stimulation, as well as skin tightening, lifting and rejuvenation. Dermapen treatments compliment other treatment options already offered to our clients such as: chemical peels, IPL/Laser Therapy, Microdermabrasion, Ultrasound/Regenique. Dermapen helps to greatly increase the effectiveness of these treatments.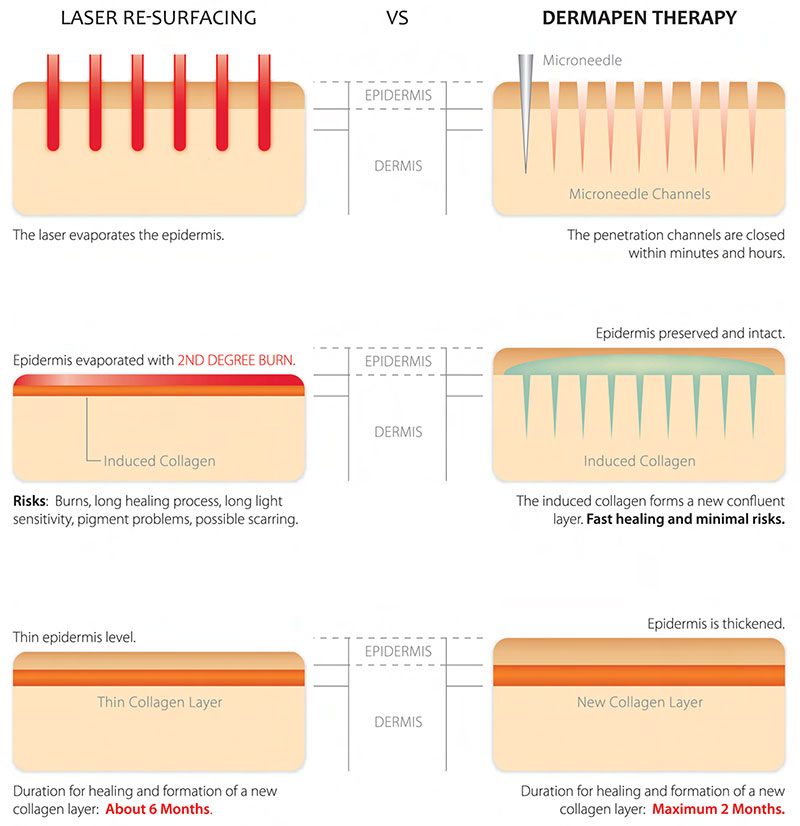 View the complete Dermapen flyer