Botox
BOTOX (Botulinum Toxin Type A) is a non-surgical simple procedure that can smoothen moderate to severe frown lines and crows feet at the ages of 18 to 65. It is FDA approved. One treatment consists of a few tiny injections and only takes about 10 minutes. The improvement is noticeable on the lines and can last from 3 to 6 months.

BOTOX Cosmetic treatments can improve:
Worry lines in forehead
Frown lines between the eyebrows
Crow's feet
Alternatively, Botox can treat individuals with severe primary axillary hyperhidrosis (excessive sweating) that is inadequately managed with topical agents. Treatment is determined based on the individual condition keeping in mind contraindication and safety precautions.
Individuals with peripheral motor neuropathic diseases (e.g, amyotrophic lateral sclerosis or motor neuropathy) or neuromuscular junctional disorders (e.g, myasthenia gravis or Lambert-Eaton syndrome) should only receive BOTOX with caution. Patients with neuromuscular disorders may be at increased risk of clinically significant systemic effects including severe dysphagia and respiratory compromise from typical doses of Botox.
During your pre-treatment free consultation session, the treatment will be discussed fully in light of your health conditions. During your consultation, all necessary forms are filled out and all of your concerns are addressed.
Dysport
Wrinkles aren't your style and the "frozen look" isn't either. For adults who want a natural look, there's Dysport, a prescription injection proven to help smooth the appearance of moderate to severe frown lines between the eyebrows without changing the look or movement of the rest of your face. Untreated muscles still work normally, so you can continue to express feelings naturally. It's the lines that are minimized, not your expressions.
Watch Sarah, a busy mom, meet with her dermatologist and ask questions, and see why she chooses Dysport for a natural look.
How does Dysport work? One injection. Five points.
Dysport treats moderate to severe frown lines between the eyebrows by reducing specific muscle activity. Wrinkles are caused by repeated movements and muscle contractions, which means they can even develop in younger adults. One injection into each of 5 points between and above the eyebrows temporarily prevents muscle contractions that cause frown lines, leaving the rest of your face to move naturally. In other words, no frozen look, just natural-looking results. You can control your look instead of your look controlling you.

How long does Dysport last? Forget frown lines between the eyebrows for up to 4 months.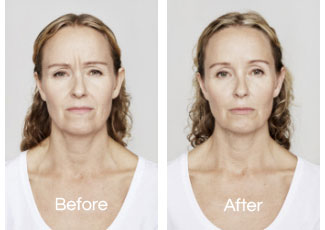 You've got better things to do than think about what your frown lines look like. The majority of users see improvement in just 2–3 days after treatment. 4-6 In just one 10- to 20-minute treatment, Dysport may help improve the look of your frown lines between the eyebrows for up to 4 months. Results of repeat treatments may be comparable to your first use. Another plus? There is minimal downtime after your treatment, which means you can get back to your day faster.
Get Rewarded for Looking Great!
Make your Restylane treatments even more rewarding experiences by joining ASPIRE Galderma Rewards. It's simple to earn exclusive rewards, bonuses and discounts throughout your facial aesthetic journey. Earn points toward treatment certificates by taking bonus quizzes, participating in surveys or referring friends.
It's easy to join and easy to enjoy — sign up today, and you'll receive a $20 treatment certificate.
Join the ASPIRE Galderma Rewards Program!
What is Xeomin?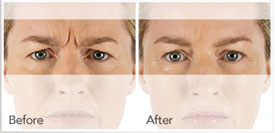 XEOMIN injection, for intramuscular use, is a prescription medication used to temporarily improve the appearance of moderate to severe frown lines between the eyebrows (glabellar lines) in adults. XEOMIN contains botulinum toxin type A, a protein purified from the bacterium Clostridium botulinum.
How does it work?
When you squint or frown, the muscles between your brows contract, causing the skin to furrow and fold. Over time, as your skin ages and loses some of its elasticity, these repeat contractions can cause persistent frown lines. Botulinum toxin type A – the active ingredient in XEOMIN acts on nerve endings in muscles to prevent muscle fibers from contracting. By reducing these contractions, XEOMIN can temporarily reduce the lines on your forehead between your brows.